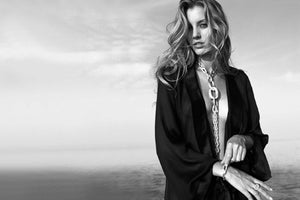 WHAT AN ADVENTURE!
That of Nanis is a tale made of passion, of special people, of beauty. It is the story of a dream: to give new life to the jewel, rewriting it not only from the aesthetic point of view but also in its deep soul. It is no coincidence that one of the very first jewels that Laura conceived was the iconic "Trasformista", the bracelet that completely changes shape with a touch, almost by magic. It was a creation that was the fruit of instinct and creativity, but it was also a kind of manifesto. Back in 1995, for Laura and Nanis the time had already come for the jewel to start adapting to women, and no longer the other way around.
A name that
SHINES
NANIS… precious creations and precious memories. Precious as the eyes and smile of a little girl, who stared at Piero and Laura during a trip to Haiti in the summer of 1986, and then took them by the hand throughout the entire day. Her name was "Nanishka" and she lived alone in a sugar cane field. Her strength and smile captured them. To Nanishka, and to her light, Nanìs owes its name.
Versatility
NANIS TRADEMARK
NANIS collections have always been telling about a renewed and contemporary jewel.
Versatility, in the company's DNA, finds a majestic expression and embraces elegance in the TRASFORMISTA collection, awarded with the CENTURION AWARD in 2016 and the INHORGENTA AWARD in 2018.
Its iconic jewels make the collection unique, as with a simple touch, almost by magic, they change completely, turning from bracelets into necklaces, from elegant to casual.
Or the IVY necklace, a string of golden pearls open to the most varied possibilities...
The iconic
NANIS BOULE
Nature and women are among Laura's greatest inspirations. The organicity, the sinuosity and the balanced "roundness" of Nature are in fact perfectly reflected in women, who are the most sensual and fascinating beings. The designer has dedicated to this sinuosity the most iconic of all Nanis shapes: our boules, or as Laura likes to call them "unusual gold pearls", that have defined many of her collections over the years, finding every time a new interpretation. In each Nanis creation you will find their harmony, you will feel their sweetness and softness, made even more distinctive by the hand engraving, Nanis' signature workmanship.